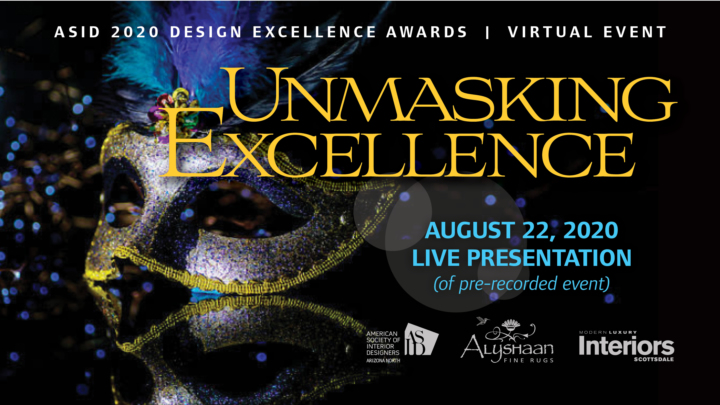 2020 Design Excellence Awards Winners Big Reveal
Description
Registrants of the live premiere of the 2020 Design Excellence Awards presentation to be held tonight, Saturday, August 22, 2020, at 7:00 pm:
Welcome to a wonderful evening of stunning design and riotous cheer for our celebrity winners! Not registered? There is still time to register at Zoom Green Room
What to Expect:
You will receive 2 links for the evening.
1. The first link will be to the Zoom "Green" Room
2. The second link will be to the AZ North Chapter YouTube Channel which is set to Premiere Live on Saturday, August 22, at 7:00 p.m. sharp.
Best viewed with 2 devices:
• Device 1: Log on with your laptop or other device (phone with screen) to the Zoom "Green" Room for conversation with friends, cheering, clapping, and the occasional gasp of amazeballs-ment! (No awards video played on Device 1)
• Device 2: A big screen is best to view the event. Dial in or broadcast AZ North's YouTube Channel to your TV or large monitor and watch our winners on the big screen!
**You can Pause the YouTube video at any but will be unable to fast-forward through any of the content until after the Premiere. After the Live Premiere, you'll be able to jump back and forth through the video to re-watch any great parts of the video.
You can also click Watch Later to save the video to your YouTube channel.
Device 2: AZ North's YouTube Channel
• Log on, turn on, stream the YouTube link to your big screen TV or monitor anytime before 7:00 p.m. HINT: do it the same time you do the Zoom "Green" Room just in case you forget or need some technical help.
• You will see a countdown just before 7:00 p.m. hour and then here it comes!
• Sit back (or pace the room) and watch the magic unfold!
PLEASE TAKE PHOTOS and VIDEOS of the entrants and winners at your watch party.
Share in the Zoom "Green" Room after the event
Email to info@azn.asid.org for posting on social media
Images and video clips may be amended to the video as outtakes for replays.
Remember to practice logging on to YouTube's link so you'll be there at 7:00 pm!
+The Winners Gallery of all winning images and award re-order form will be available after 10:00 pm Sat.